RSS
COVID-19 Community Updates
About COVID-19
What's Up? Media's landing page for COVID-19-related local information and live updates from government, business, and community sources.
We will vet and post available information as quickly as possible. Thank you and please continue to check this page often.
Is Your Business Still Open?

If your organization or business has important information to share with the community, please fill our form. Click below.
Latest News


Maryland Gov. Larry Hogan Issues Stay-At-Home order
Maryland Governor Larry Hogan issues an executive Stay-at-Home order for all Marylanders. Details and resources will be updated.
Executive Order can be found HERE



Public Schedule for Governor Larry Hogan for Monday, March 30, 2020
ANNAPOLIS, MD—The public schedule for Governor Larry Hogan for Monday, March 30, 2020 includes the following:
Monday, March 30, 2020:
10:45 AM: Governor Hogan will hold a press conference.
State House
2nd Floor Archway
NOTE: To protect public health and preserve media access, our office will enforce the following protocols at all press conferences and media availabilities.
One pool camera for ALL TV. See satellite info below.
Limited reporters and correspondents. Please RSVP to shareese.churchill@maryland.gov who will confirm your attendance.
A mult box will be available.
***SATELLITE INFO***
G28 K24 H7
Uplink: 14484.750V Mhz
Downlink: 12184.750 H Mhz
Info Rate: 3.850 MB/s
FEC 3/4
R.S. 188/204
Symbol Rate 2.785106 Ms/s
Occupied Bandwidth 3500.0 Khz


8th Annual Sporting Clays Cancelled
We regret to share with our community that we are canceling our 8th Annual Sporting Clays Classic, due to health and safety precautions regarding the Covid-19 pandemic. While we were looking forward to a great, fun spring day outdoors with fellow friends of the Wellness House, we are confident that this is the right decision for the health of our community.
Thank you in advance for considering making a donation today to help support Wellness House's members at this challenging time. To make a contribution, please visit www.annapoliswellnesshouse.org/donate.
Stay healthy and well,
The Wellness House Team


Department of Human Services Ensures Access to Food and Cash Benefits Does Not Stop for Vulnerable Marylanders During COVID-19 Pandemic
State agency issued a waiver for residents receiving cash benefits, waived work requirements, and secured a 6-month USDA waiver on SNAP benefit requirements
BALTIMORE, MD — To further support Marylanders during the COVID-19 pandemic, the Maryland Department of Human Services (DHS) has taken a number of steps to expedite services for their customers to lessen the burden of this unprecedented public health emergency.
Most recently, the Department's request to extend certification periods and adjust reporting requirements for Maryland's SNAP benefit recipients was successfully granted approval by the Food and Nutrition Service (FNS), an agency of the United States Department of Agriculture (USDA).
The Supplemental Nutrition Assistance Program (SNAP) helps low-income households buy the food they need for good health. To receive these benefits, individuals must meet certain federal requirements, including resource and income limits.
"Like the rest of the world, Marylanders are feeling the effects of this pandemic," said Department of Human Services Secretary, Lourdes R. Padilla. "However, for Marylanders in need of food, these times can be acutely stressful as they try to navigate these unchartered waters. The actions taken by Governor Larry Hogan and our agency provide timely reassurance to our most vulnerable citizens that their needs will continue to be met."
Having successfully obtained the waiver, the state agency extended certification periods for SNAP households that were scheduled to expire in March, April, and May, for six months, until September, October and November 2020 respectively. This adjustment includes households with earned income that, by regulation, cannot normally be certified for more than a six-month period.
In line with the SNAP waiver, the Department of Human Services also extended the redetermination requirements for those Marylanders receiving cash benefits, such as Temporary Cash Assistance (TCA) and Temporary Disability Assistance (TDAP), for an additional six months.
Additionally, the Department waived work requirements across all eligibility programs, including TCA and SNAP, and is using emergency assistance to address the needs of residents who may be ineligible for the aforementioned assistance programs.
"Our agency is aggressively taking every action within our control to ensure this health crisis does not become a food security crisis," said Netsanet Kibret, Executive Director of the Family Investment Administration for DHS. "We are aware of the trust that Maryland's most vulnerable put in us, and DHS will be with them every step of the way."
The Maryland Department of Human Services (DHS) is the state's primary social service provider, annually reaching more than one million people. Through its 24 local departments of social services, the agency pursues opportunities to assist people in economic need, provide preventive services, and protect vulnerable children and adults in each of Maryland's 23 counties and Baltimore City. Additional information may be found at
dhs.maryland.gov
.
Discover Easton introduces Social Distancing Bingo
Easton, Md.- As part of efforts to connect customers with the small businesses that need them most, Discover Easton has introduced Social Distancing Bingo as a fun way to safely support local businesses.
The bingo card offers fun challenges for locals to complete. Each task benefits a local business, strengthens bonds to the community, and offers a fun diversion during a time of social distancing.
"We wanted to find something fun for our community to do while practicing safe habits," Discover Easton Marketing & Events Coordinator Jeff Lankford said. "We love creating events that support our community, and we hope this fills the void for the time being."
To play, participants must stay six feet away from others in public, wash your hands for at least 20 seconds after transactions, and all challenges need to support an Easton business or organization.
Players can download a bingo card at discovereaston.com/bingo. Create a line of five on the bingo card by completing the different challenges. Tasks include ordering carry out from an Easton restaurant, purchasing a gift card, going for a walk to see the sites and spring flowers in town, volunteering, and thanking a local healthcare worker.
Completed bingo cards can be posted on social media with #DiscoverEastonBINGO or emailed to welcome@discovereaston.com along with any pictures of completed challenges or proof of purchases (if applicable). Each winning card will be entered into a drawing on April 10 for a chance to win a $50 gift certificate to an Easton business of your choice, courtesy of Discover Easton.
"Players of Social Distancing Bingo will find that they are already completing many of the challenges," Lankford said. "We hope that the other spaces provide a fun diversion while showing how effortless it can be to support your local community."
Discover Easton has made it easy to get a jump start on the bingo challenges. An online portal was created to purchase Easton business gift cards. In addition to offering the gift cards for locally-owned businesses, Discover Easton is also absorbing all credit card fees and delivery costs to customers that purchase the gift cards. To help patrons find food from our local restaurants, Discover Easton created a list of Easton restaurants offering carry-out service.
For more information on these programs and ways to support Easton businesses, visit www.discovereaston.com. Follow Discover Easton on Facebook, Instagram, and Twitter @discovereaston.

About Discover Easton: Discover Easton is a marketing, promotion and events non-profit organization operating as a member of the Mid-Shore Community Foundation. The mission of Discover Easton is to enhance, promote and preserve the vitality of Easton's independent merchants which benefit business owners, residents and visitors; and to bring awareness to the Town's historical roots and lifestyles.


Maryland Reports 194 New Cases of COVID-19; Cases In National Capital Region More Than Quadruple Over The Last Week
ANNAPOLIS, MD
—The State of Maryland now has 774 confirmed cases of COVID-19—
an increase of 425 cases over the last three days
. There are now more than 1,500 confirmed cases in the National Capital Region—in Maryland, Washington, D.C., and Virginia—4.5 times more than there were just one week ago.
Governor Larry Hogan today issued the following statement:
"Over the last three days, the number of COVID-19 cases in Maryland has more than doubled. Cases in the National Capital Region have more than quadrupled over the last week alone. There is no timetable and no model that can tell us exactly how long this will last or how bad this is going to get.
"The federal administration's swift approval of our request for a Major Disaster Declaration will drive more resources to our coordinated response. As chairman of the National Governors Association, I will continue to press for additional federal resources, including a Title 32 designation for Maryland and all the states to fund National Guard missions.
"Later today, I will convene conference calls with my full Cabinet and our Coronavirus Response Team of Maryland's top doctors and public health experts to continue to address this crisis. I cannot stress this enough: Marylanders need to stay in place at home to help slow the spread of this deadly virus.
"Our state has already faced and overcome daunting challenges before, and we will do so again."

Downtown Annapolis Partnership News
While most businesses have there doors closed at this time, most are still open online. Reach out to your local businesses via phone, email, website and social media. We encourage you to shop locally whenever possible.
Also during this time, we encourage people to take the time to call someone that may be home alone. Isolation compounded with the news of the day can be very hard on individuals and they will appreciate hearing from you.
Do you have questions for the City? Join them online today and ask your questions.
Mayor Gavin Buckley, Kevin Simmons Director of Annapolis Emergency Management and Stephen Rice the Annapolis Economic Development Manager for the City will be hosting a Town Hall today at 4pm on the City of Annapolis Facebook and YouTube pages.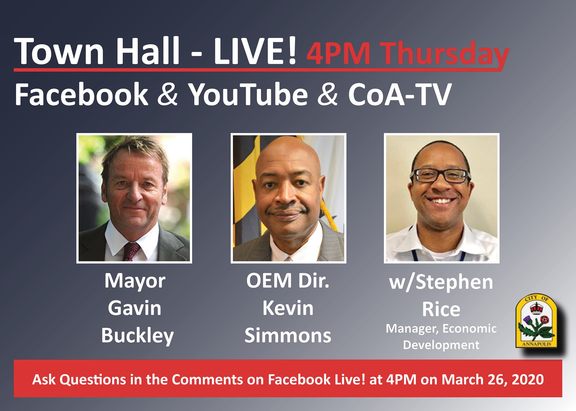 Check out the Downtown Annapolis Partnership on Facebook for even more updates on downtown Annapolis events, specials, and new arrivals
here
.
Mayor Buckley Cleared After COVID-19 Virus Test from Potential Exposure Returned 'Negative' on Wednesday
ANNAPOLIS, MD (March 25, 2020) – Annapolis Mayor Gavin Buckley got some good news on Wednesday evening when the COVID-19 test from a person he was exposed to came back negative for coronavirus. Buckley had restricted his personal movements since Monday when he was informed that he may have had contact with a person who was being tested.
Buckley conducted City business from his home over the three days while awaiting test results. He never had any symptoms and was not tested himself.
"I am getting used to virtual meetings," Buckley said. "It's a bit of a new way of life for all of us."
Buckley will resume some public appearances but will continue to maintain social distancing and CDC-recommended preventive measures to mitigate the spread of the virus.


Breaking: All Maryland Public Schools will remain closed through April 24th.
This is a developing story and will be updated.


Public Schedule for Governor Larry Hogan for Wednesday, March 25, 2020
ANNAPOLIS, MD—The public schedule for Governor Larry Hogan for Wednesday, March 25, 2020 includes the following:
Wednesday, March 25, 2020:
11:00 AM: Governor Hogan will hold a press conference.State House2nd Floor Archway
NOTE: To protect public health and preserve media access, our office will enforce the following protocols at all press conferences and media availabilities.
One pool camera for ALL TV. See satellite info below.
Limited reporters and correspondents. Please RSVP to shareese.churchill@maryland.gov who will confirm your attendance.
A mult box will be available.
***SATELLITE INFO***
10:30 AM-12:30 PMGalaxy-16 4 "G"UPLINK: 14095.750 HDOWNLINK: 11796 VL-BAND FREQ: 1045.7DOWNLINK FREQUENCY: 11764.250 VSYMBOL RATE: 4.0FEC: 3/4


CHOPTANK COMMUNITY HEALTH SYSTEM NOW OFFERING VIDEO APPOINTMENTS TO PATIENTS DENTON, MD (March 24, 2020)
410-429-4306
Choptank Community Health System (CCHS) remains committed to serving the medical and dental needs of our community. For 40-years, our focus has always been on improving the health of our Eastern Shore Community. To further assist existing patients and members of our community, currently without primary care, we are now offering video telehealth appointments through Google Duo. These visits feature end-to-end encryption for a secure connection between our medical providers and our patients.


Mayor Gavin Buckley to Restrict Personal Movements After Possible Exposure to COVID-19
ANNAPOLIS, MD (March 24, 2020) – Annapolis Mayor Gavin Buckley alerted City Council members and department heads Tuesday morning that he was restricting his own personal movements after possible exposure to a person being tested for the COVID-19 virus. Results for the testing take about five days. Buckley has no symptoms and has not been tested himself. Buckley was alerted to the potential exposure late Monday afternoon.
"I am working from home, continuing to do City business through telework and virtual meetings," Buckley said.
Buckley's public appearances will be canceled for the remainder of the week.


UPDATE: Public Schedule for Governor Larry Hogan for Tuesday, March 24, 2020
ANNAPOLIS, MD—The public schedule for Governor Larry Hogan for Tuesday, March 24, 2020 includes the following:
Tuesday, March 24, 2020:
11:00 AM: Governor Hogan will visit the Baltimore Convention Center, where the Maryland National Guard is working to establish an Alternate Care site.1 W Pratt St, Baltimore, MD 21201 12:30 PM: Governor Hogan will visit a meal distribution site at the Greenmount Recreation Center.2304 Greenmount Ave, Baltimore, MD 21218