×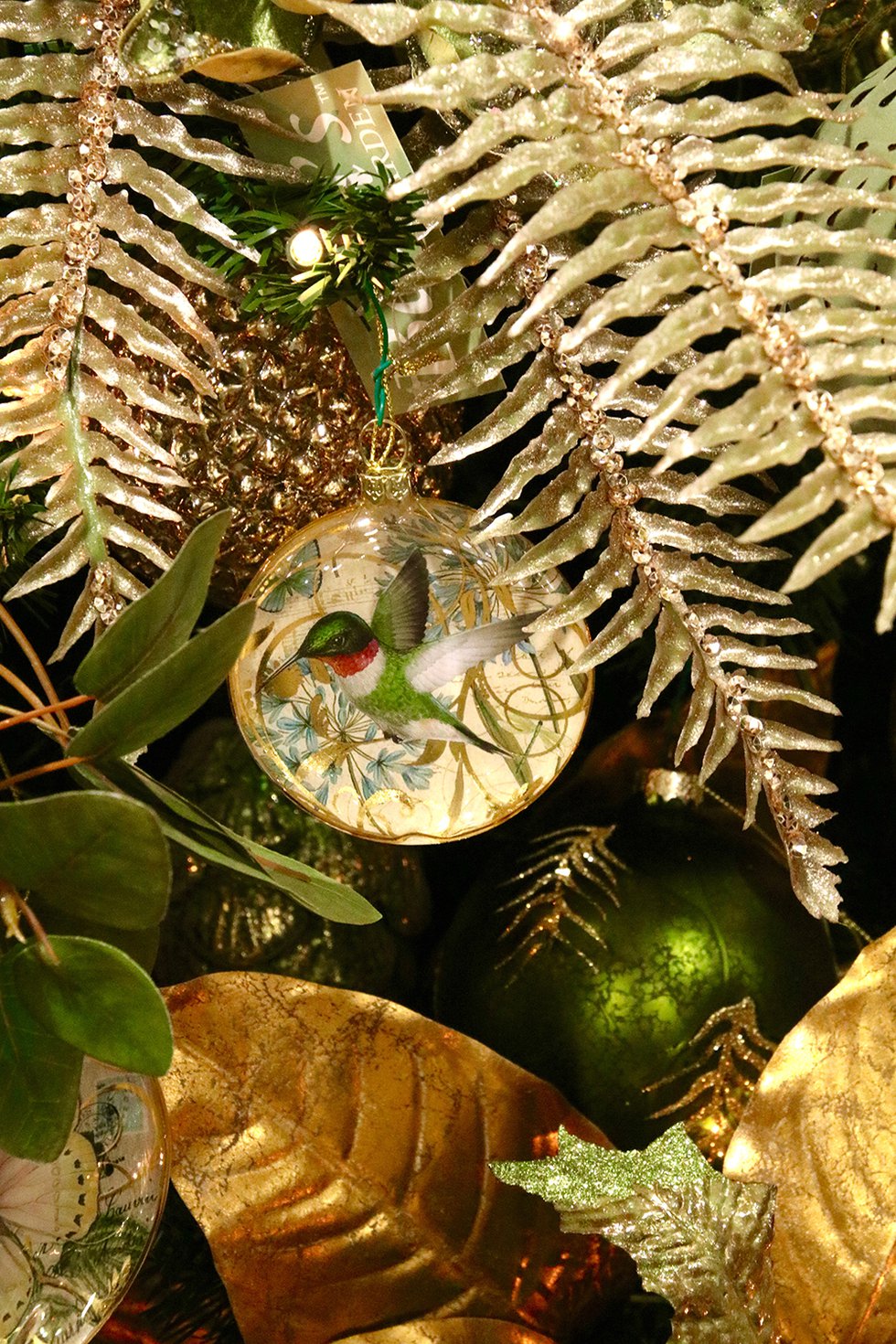 By Diana Love
Sue Adams has had a hand in creating more than 500 Christmas trees and holiday displays over the course of her career. Her experience was cultivated during more than two decades working at Homestead Gardens in Davidsonville, Maryland, where she is currently sales and merchandising manager. She's the person responsible for sourcing and displaying the unique assortment of retail goods that define Homestead's reputation as a go-to, local shop for seasonal home accessories. 
Adams' job is massive at any time of year. Her creative imagination and sophisticated merchandising skills are evident across Homestead, but it's during the holidays that Adams' particular vision most abundantly comes to life. Together with Nancy Rice, department manager for patio, decoratives and home-styles, Adams designs and decorates twenty-five trees and several themed scenarios for display from November to early January. 

Each winter and spring, she travels to Eastern Europe, to national trade shows, and to local craftsmen in her search for new and interesting ornamentations. Typically, these visits will result in finding that one very special treasure that sparks her creative mind. Last January in Poland, it was a multi-faceted glass ornament in shades of blue, green, and turquoise. "There is always some 'guiding star' to determine the spirit and style of what you want to create," Adams says. "From the tones in this one ornament, I envisaged a pine tree covered in layers of color, texture, and contrast." 

In fact, that one ornament inspired a tree design unlike any other. The central theme of the display is succulents. Cross sections of pine are anchored to the trunk, thereby serving as discs of shelving for live plants in terracotta pots. Glass cactus ornaments in a multitude of colors catch the reflection of LED lights, strung deep in the branches. Coordinating baubles in a variety of colors and shapes central to the theme further reflect glimmer and shine. Wired ribbon in soft natural tones of wood and rattan contrast sharply with the colored ornaments. An assortment of lifelike botanicals appears to pop through the foliage. The tree is stunning. It embraces all the style elements of a traditional holiday tree while also showcasing contemporary trends in an original and unusual way. It encapsulates what Adams knows to be true: holidays are defined by tradition as much as they are inspiration.

As she hunts for the next season's decorative treasures, Adams keeps at the forefront of her mind how the item will help local clients fulfill what they see as their personal holiday tradition. "I think this in regards to our clientele who enjoy established homes and big collections of décor, and I especially think about this in terms of our younger customers who are just starting their own traditions. I look for items that are traditional in use—they are ornaments, after all—but maybe bohemian, eclectic, unusual, or distinctly personal in style. The holidays don't have to be red, green, and gold, or silver and blue. Holiday style is about telling and interpreting a story." 

Holiday decorating for both Adams and Rice is clearly their idea of a good time and the perfect place to let their creativity unfold. But for most of us, decorating can be a burdensome chore, one that's rife with the pitfalls of over-glittering, over-lighting, and over-cluttering. It's a time when expectations are high, but skills are not. With this in mind, we asked Adams and Rice for advice on where to start, and equally important, when to stop. They offered a holiday décor ten-step program:

STEP ONE

Declutter
This step speaks for itself. Remove all ornamentation that doesn't pertain to what's about to come. "Get Halloween and Thanksgiving out before you bring the holiday in," Adams says. "Start with a clean slate by removing, cleaning, and prepping." 

By removing clutter, you will notice that your boxes of decorations feel less cumbersome and that when you finally get to start decorating, doing so feels less overwhelming.

STEP TWO 

Start with a Theme and Create a Storyboard
Adams was inspired by the iridescent and reflective facets of a Polish glass ornament to create a theme of "Old and New." Based on just that ornament, she created a storyboard that included shapes, colors, and styles of not only ornaments, but also ribbons, lights, and do-it-yourself (DIY) projects she was eager to include. 

To choose your own theme, start with a favorite color, texture, or style of ornament. This could mean that you choose all white and silver ornaments on a white lifelike tree studded with the warmth of plain white LED lights. Or, it could be starting with a primary color, then coordinating with stripes, prints, plaids, and other solids that match. 

Once you have a theme and a plan, consider what you own and what you will need to achieve your goal. "Really maximize your personal items," Rice says.
STEP THREE 

Choose a Focal Point
Some people love a tree topper. Some prefer a conversation piece that is an ornament, a candlestick, a bowl, or some other bold, interesting object. Some love a specific color or pattern. 

Think about your space. Maybe it's your mantle, your stair rail, or even your dock. Choose one item, shape, or color that will result in a cohesive statement the eye can rest on. In the case of your dock, perhaps it's a line of wooden barrel planters, each with a small pine tree. For your entry, perhaps it is wreaths, swags, and garlands from a particular species of evergreen. In the case of the tree, maybe its one color threaded through all décor elements, or simply a set of matching heirloom ornaments. In any case, once you have that one simple pattern, color, or shape, build around it with coordinating items that don't detract or distract.

TIP: When choosing your theme and configuring your storyboard, think from the outside in. Start at your front entry then bring into your mind's eye your stair rails, mantles, hearths, and finally your tree. These are the focal points of your design. If you don't have a hearth or mantle, consider using your dining table, coffee table, or shelving. Start with greenery, which can be lifelike (a.k.a. fake) or fresh. Many of the new lifelike trees are indeed true to life and difficult to distinguish from fresh. You can order custom made wreaths, swags, or arrangements, adding your own DIY bows or decorations. Greenery can appear inside and out as wreaths, swags, garlands, and small arrangements. All these forms of greenery can be as ornate as the tree, with ribbon, added botanicals, ornaments, and lights. Add larger decor elements such as lanterns, candlesticks, statuary, porcelain villages, collectible items, plush, bowls, topiaries, or compotes. To these add style elements. Tapered candles, bells in the bowls, sand, and seashells or pinecones, or holiday candies in the compotes and jelly bowls: these are all the small details that will make your well- dressed nest feel homey, welcoming, and hospitable. Finally, finesse the overall scene with tiny details like scent sticks, diffusers, candles, room spray, and potpourri. 
STEP FOUR

Turn on the Lights 
After you've determined the focal point of your design, its time to start layering. Plan to work from the outside in. Do one element at a time, or one layer at a time. 

Lights should be put on the tree first. You can choose from traditional strings of lights, bulbs in iconic shapes (these come in every rendering imaginable, from cactuses to Santas), or flameless, battery-operated candles. Don't be afraid to push the lights deep into the greenery, where their glow will seem more natural and where they can reflect off ornaments and metallics. 

STEP FIVE

Add Ribbons & Trim
The next layer is ribboning. This can come in the form of traditional ribbon in silk, velvet, or polyester. Local crafts stores sell bolts of wired ribbon, which is easiest to work with because it can be bent and shaped. 

Ribbon can be used as a stunning contrast to all other elements of decor. Natural rattan or linen, bright white, creamy white, metallic, plaid, and classic red are excellent choices if you need to stick to your theme but bring another layer of color or texture to your design schematic.

TIP: Consider using LED lights which are eco-friendly, durable, and long lasting. In fact, LEDs typically light for 4,000 or more hours, while standard incandescent lights last half that amount of time. LEDs are so long lasting because unlike incandescent bulbs, they don't rely on filaments, which can heat up and burn out. An ancillary benefit is that LED light bulbs don't get hot, a factor that has been shown to contribute to fire. According to the National Fire Protection Association, fire departments in the United States responded to an estimated average of 200 home structure fires per year that began specifically with Christmas trees in 2011–2015. These fires caused an annual average of six civilian deaths, 16 civilian injuries, and $14.8 million in direct property damage. 
Another benefit of LED lights is that they don't break easily: if one bulb goes, the rest of the string will remain lit. Lastly, LEDs offer an amazing array of lighting possibilities, including bulbs that add sprays of light, directional light, designs, or added
brcolor, glimmer, and shine
STEP SIX

Add Natural Elements
Layer in natural elements such as evergreen branches, silk flowers, and boughs of lifelike greenery or botanicals. 

Remember to stay within your theme. If you are designing a nautical tree, use bits of driftwood. A Nordic tree might include sprigs of pepperberry or eucalyptus. A more traditionally-styled tree could rely on large silk magnolia blooms that pair well with wide swaths of plaid, red, pink, cream, or gold ribbon. Poinsettia blooms and paperwhite narcissus are other seasonal botanicals that are beautiful in trees, swags, wreaths, and garland.

STEP SEVEN

Add the Ornaments
Consider both small and large ornaments that lend a pop of color, texture, and shape. Stick with your theme but offer variations. A retro-style tree might include a mix of your family's favorite souvenirs in all shapes and sizes, but with a single common color. A Navy themed tree might showcase tridents, anchors, and boats, all in shades of white, navy, and gold. Varying the shapes, sizes, and textures provides visual interest both from far away and up close. 

Adams and Rice are not fans of hanging ornaments on the ends of branches. "Those get broken and make the tree limbs bow," they say. Instead, tuck ornaments into the tree to get depth and movement. 

You'll need to do some math. If you are creating a themed tree, wreath, or swag, you will need 9–12 of the same ornament. "You can't do a themed tree buying bits of this and that," Adams says. "You have to commit. Buy singles of items you want to collect, but buy multiples of ones you want to get noticed." 

STEP EIGHT

Add the Topper 
Not everyone buys a topper these days. But if you do, choose one that suits the theme. You don't want the topper to be too small, or to recede into the background. You want it to be a strong focal point that really stands out. There is no distinct trend in toppers these days, other than considering something unusual or eclectic. Traditional choices are stars, angels, or inherited heirlooms. 

STEP NINE 


The Skirt
Adams and Rice say the skirt is the last thing they worry about. They aren't the focus of the tree. The purpose of the skirt is to cover the stand. In fact, boxes and bags of presents quickly hide the skirt. 
This isn't to say you can throw any old thing under the tree and call it a day. The skirt is the exclamation point at the end of your decorating sentence: it doesn't have to stand out, but it should make a statement. As always, stick with your color or style theme and don't let the skirt detract from all the ornamentation above it. If you don't want a formal skirt, consider a coordinating basket or other vessel to hide the tree stand. If you are creating a family friendly, childhood-themed tree, give your kids a cardboard box to decorate with markers, stickers, wrapping paper scraps, glue, glitter, or whatever crafting supplies you deem age-appropriate. Older children could go a little fancier with special wrapping papers, ribbon, and bows.

STEP TEN

Accessorize with Trains, Villages, Lanterns & Gifts
Electric trains, collected porcelain villages, battery-lit lanterns, or strings of LED lights can all be used as finishing touches on wreaths, swags, and trees. These accessories lend a warm and traditional feel, even to eclectic or distinctly personal décor. Beware that it is in the accessories that many go over the cliff into a stormy sea of clutter and glitter. Keep your décor sophisticated and bright by keeping it as simple as possible. 
Trends in Holiday Style
Abandoning the traditional Christmas decorating scenarios for more creative alternatives has made room for a bounty of intriguing, artistic and beautiful décor solutions that have grown quickly in popularity. Although the holidays are quintessentially about tradition, they are also turning habits and customs upside down (sometimes literally). Varying ages, abilities, budgets, spaces, storage, and time constraints mean there is a both a problem and now an innovative solution for every decorating scenario. Here are several ways designers are shaking things up to make seasonal décor exciting, refreshed and appropriate for your personal style and budget. 
Shades of Purple, Blue & Grey
From the runway to the tree, shades of purple, blue, and grey are ruling in every way. Purples vary from rich magentas to pastels. Blues range from turquoise to rich navy, and greys are in soothing shades of ice, wolf fur, and slate. Use these colors in blown glass ornaments, crystal ware, tabletop, and accessories like tree skirts and sofa blankets.